DVM IM
The DVM IM Suite features an all-new integrated microwave alignment and stabilization platform designed for configurations featuring up to 1FT – 4FT (0.3m – 1.2m) antennas. Ideal for deployments operating offshore, or in high wind environments, the DVM IM suite represents a flexible solution for operators looking for reliable Line-of-Sight (LoS) communications for offshore or rugged environments.
Overview:
The DVM IM platform is a ruggedized, automated antenna alignment, antenna tracking and antenna stabilization solution. Positioned for antennas from 1FT – 4FT (0.3m – 1.2m), the DVM IM provides BATS' industry-leading antenna targeting for organizations in need of a nomadic or fully mobile broadband communication link.
This enclosed, modular system is ideal for both fixed and mobile terrestrial and nautical applications. Where fixed, nomadic, or mobile point-to-point (PTP) communications is needed, operators will have the ability to quickly establish and configure high-speed, high-capacity wireless networks.
Ideal for fixed, nomadic, or mobile applications, including:
  Light Duty Geophysical Services
  Cruise, Yacht, & Ferry Near-Port Communications
  Commercial Shipping Near-Port Communications
  Building / High-Wind Emergency Response Communications
  Floating Vessel Stabilized Microwave Communications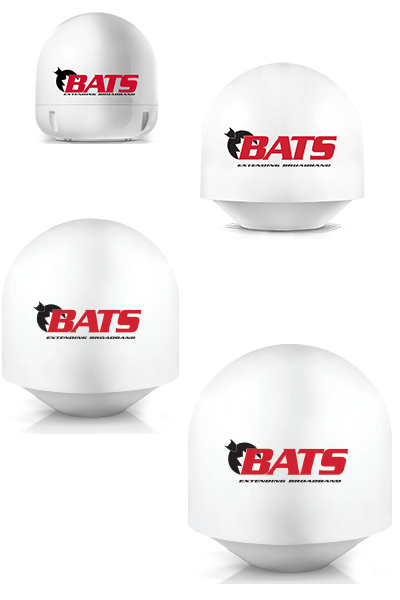 Specifications
DVM IM - Integrated, Marine-Grade Antenna Tracking System
SYSTEM
DVM-IM
DVM-XIM
DVM-XLIM
DVM-VXLIM
ANTENNA SIZE
Up to 1FT
Up to 2FT
Up to 3FT
Up to 4FT
PHYSICAL DIMENSIONS
27.5" (Ø) x 27.4" (H) / 69.9cm (Ø) x 69.6cm (H)
44.5" (Ø) x 44.9" (H) / 113.0cm (Ø) x 114.1cm (H)
52.4" (Ø) x 55.9" (H) / 133.1cm (Ø) x 141.9cm (H)
65" (Ø) x 66.5" (H) / 165.2cm (Ø) x 168.9cm (H)
WEIGHT
70 lbs. / 31.8 kg* [Varies based on configuration.]
75 lbs. / 34 kg* [Varies based on configuration.]
125 lbs. / 56.7 kg* [Varies based on configuration.]
220 lbs. / 99.8 kg [Varies based on configuration.]
ENVIRONMENTAL
Standardized to IP-66
Standardized to IP-66
Standardized to IP-66
Standardized to IP-66
OPERATING TEMPERATURE
-40° to 55°C
-40° to 55°C
-40° to 55°C
-40° to 55°C
PAN / TILT-AXIS RANGE
Pan: 360° range, Tilt: ±10° soft limit

(±20° hard limit) *Antenna Dependent
Pan: 360° range, Tilt: ±10° soft limit

(±20° hard limit) *Antenna Dependent
Pan: 360° range, Tilt: ±10° soft limit

(±20° hard limit) *Antenna Dependent
Pan: 360° range, Tilt: ±10° soft limit

(±20° hard limit) *Antenna Dependent
PAN / TILT-AXIS SPEED
Up to 10°/sec (PAN) Up to 5°/sec (TILT)
Up to 10°/sec (PAN) Up to 5°/sec (TILT)
Up to 10°/sec (PAN) Up to 5°/sec (TILT)
Up to 10°/sec (PAN) Up to 5°/sec (TILT)
ACCURACY
Within 0.05° of beamwidth
Within 0.05° of beamwidth
Within 0.05° of beamwidth
Within 0.05° of beamwidth
POWER CONSUMPTION
Peak: 100 Watts
Standby: 10 Watts
Peak: 100 Watts
Standby: 10 Watts
Peak: 100 Watts
Standby: 10 Watts
Peak: 100 Watts
Standby: 10 Watts
SUPPLY VOLTAGE
24VDC
24VDC
24VDC
24VDC
CABLING
Power: 1x DC Power Cable
Data: 2x RJ-45 Cable

Power: 1x DC Power Cable
Data: 2x RJ-45 Cable
Power: 1x DC Power Cable
Data: 2x RJ-45 Cable
Power: 1x DC Power Cable
Data: 2x RJ-45 Cable

MOUNTING
3" - 4" Pole for Pole Mount Required (Standard)*
3" - 4" Pole for Pole Mount Required (Standard)*
3" - 4" Pole for Pole Mount Required (Standard)*
3" - 4" Pole for Pole Mount Required (Standard)*