Quick Deploy
Designed for automated rollout of key point-to-point network nodes. The all-outdoor Quick Deploy antenna aiming solution allows for streamlined setup and connection of wireless links without the need of telecommunications engineers in the field.
Overview:
The Quick Deploy solution suite was designed to be as hands off as possible, eliminating the need for advanced technical resources. Upon arrival to the link area, the operator simply raises the mast or tripod and powers on the system. Through the use of our industry-leading antenna location, alignment, and optimization software, the BATS system will begin its scan and connect sequence – without any additional input from the user. With its automated operation and on-board control unit, the all-integrated Quick Deploy solution eliminates the need for additional software or even the use of an external rackmount or hardened control unit.
BATS innovative technology is ideal for rapid deployment or extension of wireless networks. The quick deploy solution is suited for first responders, public safety, military, border patrol and other critical communications requirements.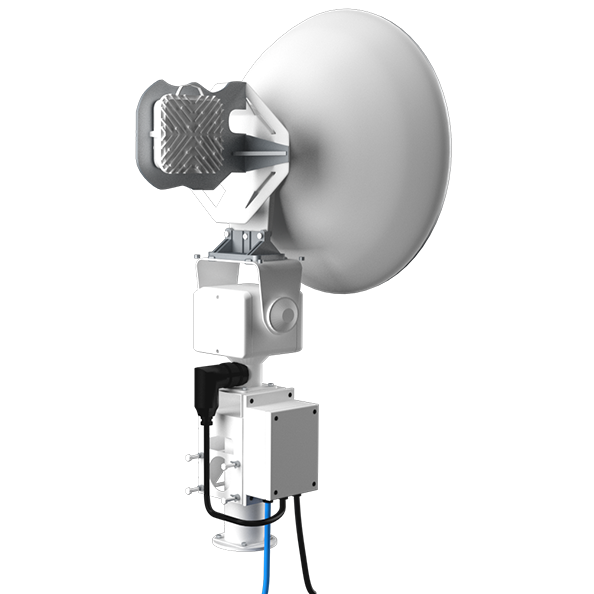 Specifications
BTS QD - Quick Deploy System for On The Move Communications
SYSTEM
BTS-25QD
BTS-50QD
BTS-90QD
PHYSICAL DIMENSIONS
Positioner Only: 9.12" (H) x 9.37" (W) x 5.25" (D)
Positioner Only: 10.44" (H) x 10.26" (W) x 7.88" (D)
Positioner Only: 14.7" (H) x 15.4" (W) x 11.5" (D)
WEIGHT
20 lbs. (+4.4 lbs w/ controller & pole mount)
22 lbs. (+4.4 lbs w/ controller & pole mount)
75 lbs. (+4.4 lbs w/ controller & pole mount)
ENVIRONMENTAL
Standardized to IP-66
Standardized to IP-66
Standardized to IP-66
OPERATING TEMPERATURE
-30° to 55°C
-30° to 55°C
-30° to 55°C
PAN / TILT-AXIS RANGE
Pan: ±217° range, Tilt: ±10° soft limit
(±20° hard limit) *Antenna Dependent
Pan: ±217° range, Tilt: ±10° soft limit
(±20° hard limit) *Antenna Dependent
Pan: ±217° range, Tilt: ±10° soft limit
(±20° hard limit) *Antenna Dependent
PAN / TILT-AXIS SPEED
22°/sec max (PAN) 11°/sec max (TILT)
22°/sec max (PAN) 11°/sec max (TILT)
22°/sec max (PAN) 11°/sec max (TILT)
ACCURACY
Within 0.05° of beamwidth
Within 0.05° of beamwidth
Within 0.05° of beamwidth
POWER CONSUMPTION
105W max
173W max
200W max
POWER SUPPLY
Positioner: AC/DC Converter, -40° to 159°F (-40° to +71°C);
240W; 93-132/186-264 VAC, 47-63Hz

Controller: PoE Adapter, 32° to 140°F (0° to +60°C);
60W; 90-264 VAC, 47-63Hz
Positioner: AC/DC Converter, -40° to 159°F (-40° to +71°C);
240W; 93-132/186-264 VAC, 47-63Hz


Controller: PoE Adapter, 32° to 140°F (0° to +60°C);
60W; 90-264 VAC, 47-63Hz
Positioner: AC/DC Converter, -40° to 159°F (-40° to +71°C);
240W; 93-132/186-264 VAC, 47-63Hz


Controller: PoE Adapter, 32° to 140°F (0° to +60°C);
60W; 90-264 VAC, 47-63Hz
CONNECTIVITY
Positioner: 1x MIL-SPEC Pwr/Ctrl In
Controller: 1x Eth Data / 1x Pwr/Ctrl Out / 1x DC Pwr In

Positioner: 1x MIL-SPEC Pwr/Ctrl In
Controller: 1x Eth Data / 1x Pwr/Ctrl Out / 1x DC Pwr In
Positioner: 1x MIL-SPEC Pwr/Ctrl In
Controller: 1x Eth Data / 1x Pwr/Ctrl Out / 1x DC Pwr In
MOUNTING
3" - 4" Pole for Pole Mount Required (Standard)*
3" - 4" Pole for Pole Mount Required (Standard)*
3" - 4" Pole for Pole Mount Required (Standard)*