Ship-to-Shore Communications
As offshore industries continue to bloom and flourish, high-bandwidth internet connectivity is a project necessity in a variety of applications. Shipping, drilling, offloading, seismic mapping, and leisure markets all require the benefits of a low-latency, cost effective ship-to-shore communications solution.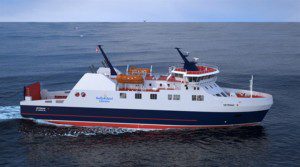 From transmitting inter-fleet data and communications, to providing crew comfort, accessible connectivity is imperative in the ever-expanding maritime industry. Cruise ships, ferries, oilrigs, FPSOs, and a wide variety of maritime operators rely on reliable, high-capacity communications links to sustain and effectively manage their offshore projects.
The dismal nature of ship-to-shore communications has frequently left maritime operators at a communications disadvantage. Without an established terrestrial or fiber optic network, offshore operators were forced to use satellite, an expensive, low-bandwidth and unreliable form of connectivity that handicapped effective ship-to-shore communications due to its frequent timeouts, lost signals, and loading failures. Without the ability to transmit complete communications data among several ships or between crews offshore and land-based headquarters, maritime operators were left to conduct operations over increasingly cumbersome forms of communication, such as VoIP (Voice over Internet Protocol) calls that could cost as much as $10 per minute.
Additionally, in drilling applications, crews require the ability to communicate with family onshore. As most drilling projects require crew members to spend weeks or months at a time away from home, high-bandwidth, low-latency communications links allow them to conduct Skype calls without excessive cost or buffering. Even leisure-based maritime industries have recognized the crucial nature of reliable, secure, high quality internet connectivity. By providing guests the opportunity to stream, download, scroll, and search without fearing exorbitant cell phone bills upon return to land, cruise and ferry operators can provide a more enjoyable experience without the headaches typically associated with accessing internet offshore.